Scale: 1/32
Material: ABS and Antishock (HIPS) Thermoplastic
Production Technique: Plastic Injection
Size (length x wingspan): 210.2 mm x 370.5 mm
Exhibit: Metal feet and clear plexiglass pedestal
The materials used are suitable and harmless for human health.
Step into the world of advanced military aviation with the Turkish Baykar Bayraktar TB2 Tactical Armed UAV 1/32 Scale Model, available exclusively at Anatolian Bazaar. This meticulously designed model kit allows you to recreate the remarkable TB2 unmanned combat aerial vehicle (UCAV) in stunning detail.
The TB2 model showcases the cutting-edge technology and precision engineering of Turkish military advancements. Every element of this model, from the intricately crafted fuselage to the accurately reproduced weaponry, reflects the exceptional quality and attention to detail that define Turkish Baykar Bayraktar.
Whether you're a dedicated model builder or a military enthusiast, constructing this kit will provide you with a rewarding experience. The high-quality parts and comprehensive instructions ensure a seamless assembly process, allowing you to create a captivating display piece that captures the essence of Turkish military aviation excellence.
At Anatolian Bazaar, we are committed to delivering authentic and premium products. Each Turkish Baykar Bayraktar TB2 Tactical Armed UAV 1/32 Scale Model is meticulously crafted to guarantee accuracy and quality, making it an ideal addition to any military model collection.
Embark on a journey of military aviation mastery. Order the Turkish Baykar Bayraktar TB2 Tactical Armed UAV 1/32 Scale Model today from Anatolian Bazaar and showcase the cutting-edge capabilities of Turkish military engineering.
The Bayraktar TB2 is a Turkish medium altitude long endurance (MALE) unmanned combat aerial vehicle (UCAV) capable of remotely controlled or autonomous flight operations. It is manufactured by Turkey′s Baykar company primarily for the Turkish Armed Forces. The aircraft is monitored and controlled by an aircrew in the Ground Control Station, including weapons employment, via the Türksat satellite. Bayraktar means "ensign" or "standard-bearer" in Turkish. The development of the UAV has been largely credited to Selçuk Bayraktar, a former MIT graduate student.
The aircraft previously relied on imported and regulated components and technologies such as the engines (manufactured by Rotax in Austria) and optoelectronics (FLIR sensors imported from Wescam in Canada or Hensoldt from Germany). Engines exports were halted when Bombardier, owner of Rotax, became aware of the military use of their recreational aircraft engines.In October 2020 Canadian WESCAM (optics and sensors) exports were restricted by the Canadian Foreign Ministry. At the same time local FLIR integration tests started with Aselsan's CATS FLIR system on 6 November 2020.
Bayraktar drones have been praised for it's achievements by Turkish and non-Turkish authorities for his role. British Defense Minister Ben Wallace and American political science author Francis Fukuyama praised the platform and his systems.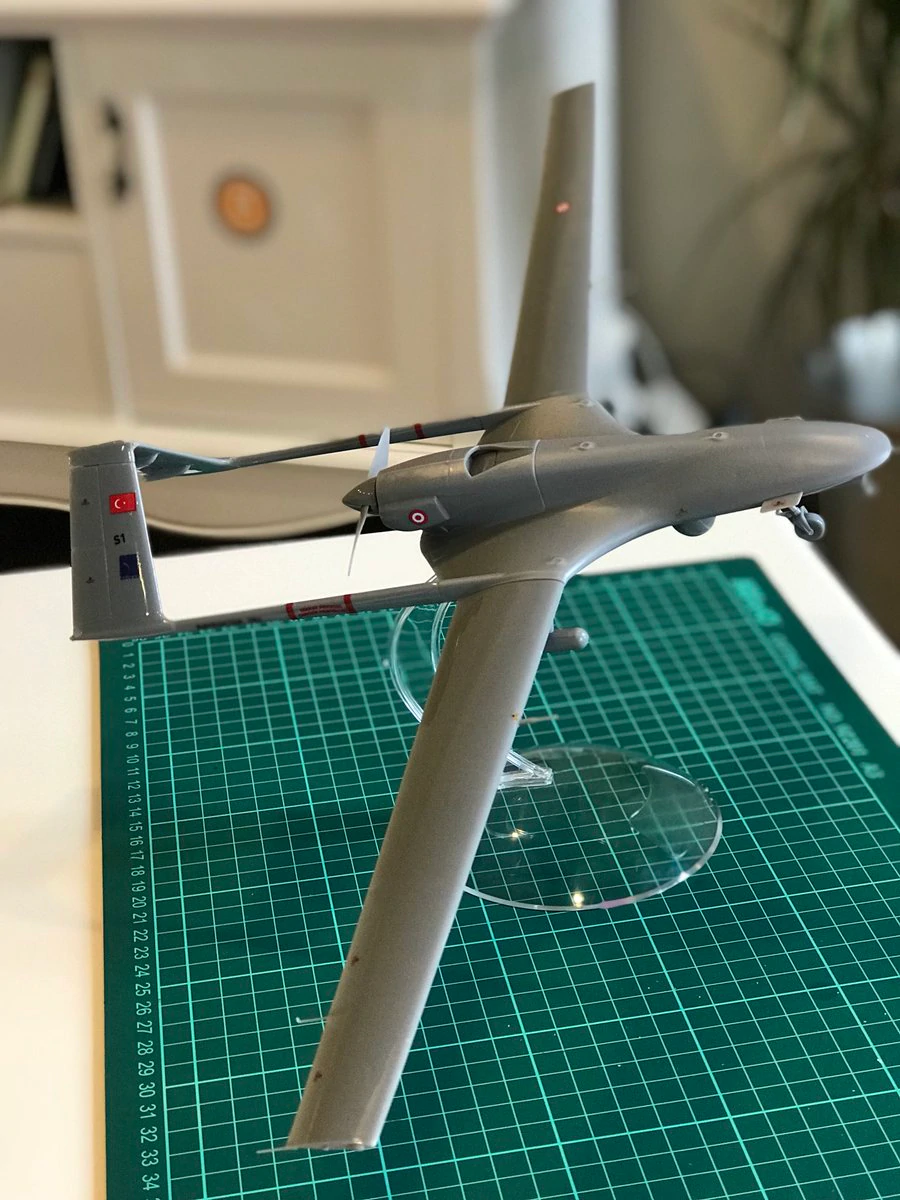 Turkish Baykar Bayraktar Akinci Tactical Armed / UAV SİHA – UCAV System 1/72 Scale Model Kit